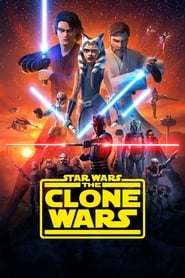 Star Wars: The Clone Wars
Guarda Star Wars: The Clone Wars Streaming. Serie Star Wars: The Clone Wars online. Guardare episodi in streaming ita, download Star Wars: The Clone Wars gratis su Guardaserie.
Ambientata nell'universo di fantascientifico di Guerre stellari, durante le Guerre dei Cloni, la serie si colloca cronologicamente tra i film prequel L'attacco dei cloni e La vendetta dei Sith, ricoprendo un periodo di tre anni, ed è stata preceduta da un film omonimo (che costituisce di fatto l'episodio pilota della serie)
Visualizzazioni 584
Genere: Action e Adventure, Animazione, Sci-Fi e Fantasy
Direttore: George Lucas
attori: Catherine Taber, Corey Burton, David Tennant, Dee Bradley Baker, Ian Abercrombie, James Arnold Taylor, Matt Lanter, Matthew Wood, Terrence 'T.C.' Carson, Tom Kane
Studio: Lucasfilm Animation, Lucasfilm Ltd.
TV di Stato: Ended
Duration: 25,30,22 min
pubblicazione: 2008